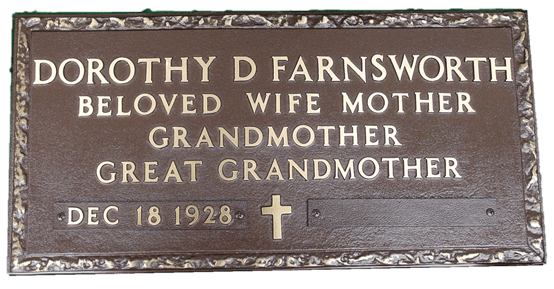 Making final arrangements for a recently departed loved one can be overwhelming and time-consuming. Selecting an appropriate, high-quality headstone is part of the process for creating a lovely scene to regularly visit and respectfully remember a deceased friend or family member. There are several factors to consider when purchasing a grave marker, and the cemetery can oftentimes make this selection and installation challenging. But by understanding the different design options and considerations of buying a headstone, this crucial process can be simple and straightforward.
Considerations for Buying a Headstone
Every cemetery follows specific rules regarding the types of headstones and grave markers that can be featured throughout their property. To successfully purchase a beautiful headstone that celebrates the life of your loved one while adhering to the guidelines of your chosen cemetery, it's best to thoroughly understand the common factors that determine appropriate headstone design and craftsmanship.
By neglecting to work closely with the administrators at the cemetery, your gravestone could, unfortunately, be rejected by the cemetery during delivery.
Common Questions to Understand While Buying a Grave Marker
Selecting and designing an elegant headstone is a detailed process that requires attentive care. When purchasing a new grave marker, consider the following:
Specific Size Requirements: Depending on the size of the grave plot, markers can accommodate single, companion, infant and cremation sizes. Understanding the size of the plot and where the grave is located will help determine the appropriate sizing.
Grave Marker Materials: Some cemeteries are flexible and will allow either bronze or granite headstone materials in a selection of various colors.
Granite Base Requirements: Understand whether your bronze grave marker should be set on a granite base or whether the cemetery prefers to set the plaque on cement.
Bronze Craftsmanship Techniques: For uniformity and lasting finishes, bronze grave markers may need to be specially crafted according to a specific recipe. Work with your manufacturer to obtain a detailed bronze recipe and understand the most updated craftsmanship standards.
Headstone Design Restrictions: Determine whether the cemetery enforces certain headstone design specifications like bronze or granite coloring, sizing limitations, decorative borders, required headstone emblems or engravings, or photograph inclusions.
Tips for Purchasing a Headstone
When buying a headstone, you may decide you want more design variety and marker customization than what the cemetery or funeral home provides. To successfully buy a headstone online and ensure the finished product exceeds your expectations, consider the following tips: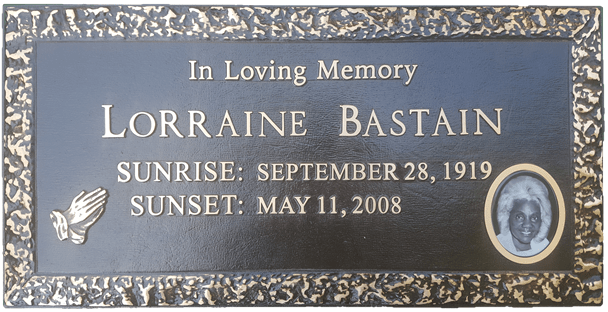 Visit the cemetery and ask whether you can purchase a headstone from an outside vendor and if there are any additional fees. Then, request a printed copy of their site rules and regulations with details regarding their specific headstone size, dimension, material and decorative requirements.
Inquire about setting fees and any other headstone cost considerations. Also, ask your cemetery about completing any grave marker installation forms such as marker authorization forms, photo release forms, concrete border release forms or setting forms. Without the necessary paperwork, the headstone may not be accepted for delivery by the cemetery.
Compare the pricing of cemetery-provided headstones versus purchasing a marker from an outside vendor to easily determine which option best suits your needs and budget. Keep in mind the upfront costs of the grave marker, granite base and delivery fees.
Memorialize Your Loved One With a Quality Bronze Marker From Erie Landmark Company
At Erie Landmark Company, a division of Paul W. Zimmerman Foundries, we celebrate a longstanding history of craftsmanship excellence characterized by our quality bronze plaques, superior manufacturing techniques and our personalized customer attention. We're a family-owned and operated company with over 80 years of experience working closely with customers to execute your unique vision and provide a stunning bronze grave marker that will forever celebrate the life of your loved one. We offer a large variety of bronze grave markers specially designed and intricately crafted to offer optimal personalization and lasting finishes.
Learn more about our selection of headstones or request a free quote by completing our online contact form or calling 800-874-7848.