Aged Bronze Address Plaque 10×4

Aged Bronze Address Plaques
Many homeowners are excited about the idea of a cast bronze address plaque that can show off their home and style and allow their address numbers to be seen clearly from the street. But not every type of plaque is right for every home, which is why Erie Landmark offers custom address plaques.
One type of plaque you may be interested in is the aged bronze address plaque. This way, if your home exterior is designed in a vintage style, you can still add an attractive bronze address plaque while enhancing, rather than disrupting, the exterior décor.
Design Your Perfect Custom Aged Bronze Address Plaque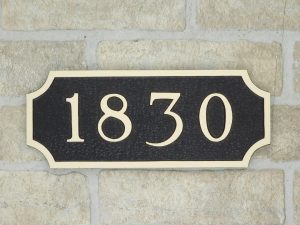 Our craftsmen can make you a custom aged bronze plaque, complete with antique bronze house numbers, that can include designs and lettering to fit your family's style and home décor. We use only the highest quality materials, so even though your plaque may look as old or older than your home, you can count on it to last a long time. We back that promise up with a five-year warranty on wear and tear, but we're confident you'll be enjoying your aged bronze address plaque for much longer than that.
Get in Touch With Us to Start Designing Your Address Plaque for Your Home
Some people might consider us a little vintage ourselves, since we have roots in Central PA that go back over three-quarters of a century, so we know a thing or two about vintage plaques. We're a small, family-owned business that takes a personal interest in every job and can't wait to meet new homeowners looking to add a distinctive touch to their beloved home.
We're ready to get started when you are. Contact Erie Landmark for vintage address plaques for your home today.
Only logged in customers who have purchased this product may leave a review.
---