Memorial Bench Plaques & Garden Bench Plaques
One of the most moving ways you can commemorate someone important to you is with a park bench plaque. Whether you are honoring someone who has made a donation to the park or garden or simply someone who has had a great impact on your life and/or the community, plaques for park benches or garden memorial plaques are a way to pay a lasting and touching tribute.
Memorial Plaques for Benches by Erie Landmark Company
Anyone who visits the garden or park and sees this plaque prominently displayed will instantly learn about or be reminded of the recipient, and it is a wonderful way to make sure the recipient will always be remembered. Our garden and memorial bench plaques, as well as our bronze cemetery plaques, also can provide wonderful memorials for families. Erie Landmark Company can design a tasteful and high-quality plaque that includes not only the recipient's name, but also the name of the person or group that commissioned the plaque and a brief dedication statement. Erie Landmark Company has been making bench plaques, naval ship plaques and historical markers for decades, and you can be sure every plaque we make is with the utmost care and appreciation for your love and respect for the recipient. Our stainless-steel bench plaques are 5.5 inches long and 7/8 inches high. You can choose from hundreds of different text styles or small line graphics to engrave on your plaque, with black ink for filling in the engraved area for increased visibility. We also offer aluminum or bronze memorial bench plaques. Call us at 1-800-874-7848 to discuss your specific requirements with respect to size and appearance for these plaques.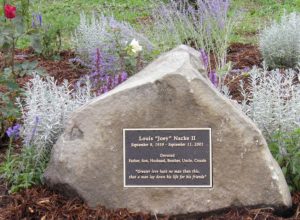 Why Choose Erie Landmark Company for Your Garden Bench Memorial Plaques?
Our enthusiasm for creating beautiful plaques for our customers is unmatched in the industry. We are a small, family-owned business, and everyone here has a tremendous passion and love for what we do. We have extremely talented sculptors and engravers working for us who always do beautiful work. Peruse the images on our website of all the plaques we have made in the past or talk to any of our satisfied customers. You will discover there's no finer choice for your stainless steel, bronze or aluminum plaque than Erie Landmark Company. With our five-year warranty for normal wear and tear, you can be confident that we stand behind all the work we do.
We have a highly dedicated customer service team that loves introducing new people to our plaques and who always strive to make sure every client is fully satisfied. If you ever have any concerns or questions about your plaque, you can always call us and speak to someone who knows and cares about your order and understands your needs. If you're ready for a beautiful commemorative plaque for your park bench or garden, just contact us right now for pricing information or to place an order.
Only logged in customers who have purchased this product may leave a review.
---