Memorial Bench Plaques and Garden Plaques
One of the most moving ways to commemorate someone important to you is with a park bench or garden plaque. Whether you are honoring someone who has had a great impact on your life or the community or made a generous donation to a site, plaques deliver a lasting and touching tribute.
Memorial Plaques for Benches by Erie Landmark Company
Anyone who visits the park and sees this plaque will instantly learn about or be reminded of the recipient. It is a wonderful way to make sure people will remember them. Our memorial bench plaques make excellent memorials for family members.
Erie Landmark Company can design a high-quality plaque that includes the recipient's name, the name of the person or group that commissioned the plaque and a brief dedication. For decades, Erie Landmark Company has been making bench plaques, naval ship plaques and historical markers. You can be sure that we complete every plaque with the utmost care and appreciation for your love and respect for the recipient.
Our stainless-steel bench plaques are available in a single size measuring 5.5 inches long and 7/8 inches high. You can choose from hundreds of different text styles or small line graphics to display on your plaque, complete with black ink filling for increased visibility. We also offer aluminum or bronze memorial bench plaques, which you can purchase in many custom shapes and sizes to fit your preferences.
Aluminum and Bronze Garden Plaques
A garden plaque can be a lovely way to honor a person or event that has had a major influence on you or your organization. At Erie Landmark Company, a division of Paul W. Zimmerman Foundries, we can help you customize a plaque that will add elegance to your garden. Our custom garden plaques can provide timeless value and appeal because they are made with long-lasting materials that display the message or image of your choice for posterity.
Garden Memorial Plaques by Erie Landmark Company
Creating a garden is often a labor of love, and it can completely change the view of a building or home. A plaque offers a garden aesthetic and emotional appeal, providing an excellent way to memorialize or commemorate someone.
Many people enjoy using garden or bench plaques to pay tribute to their loved ones. A clean, detailed plaque can add a layer of elegance and beauty to a garden feature that will last for years to come.
Whether you need a plaque with a brief dedication statement or a name and the creator, we can provide a durable memento that fits your needs. Individuals, churches and even schools can use our commemorative garden plaques. They also make excellent gifts for holidays and special occasions.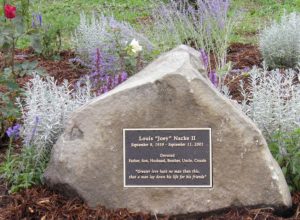 Why Choose Erie Landmark Company for Your Outdoor Memorial Plaques?
Our enthusiasm for creating beautiful plaques for our customers is unmatched in the industry. We are a small, family-owned business, and everyone here has a tremendous passion and love for what we do. We have incredibly talented sculptors and casters working for us who always do beautiful work.
There's no finer choice for your stainless steel, bronze or aluminum plaque than Erie Landmark Company.
If you're looking for a company that offers custom plaques, you can rely on us for high-quality materials, designs and finishes. A few benefits of choosing Erie Landmark Company include:
Product durability: When we design and craft a memorial plaque, we build it to last. Because our plaques are made for outdoor use, you can trust them to offer excellent strength. Our plaques have exceptional durability, allowing you to enjoy their beauty for longer with only occasional maintenance. Our plaques even come with five-year warranty coverage for normal wear and tear.
Customization: We can customize a plaque to your liking by offering a range of fonts, sizes, shapes, borders and finishes. If there's a special message you want to convey, we can help communicate it on your terms. Erie Landmark Company can even handle complex plaque designs and requests.
Your choice of materials: We work with sturdy and aesthetically pleasing materials so you can make the most of your plaque's value. Choose from multiple material options, such as aluminum and bronze, depending on which metal best fits your application.
Precision and attention to detail: We value the little details of our custom plaques. We work with careful diligence to ensure our designs are clean, precise and meet your specifications.
Contact Erie Landmark Company to Order Bench or Garden Plaques
We have a dedicated customer service team that loves introducing new people to our plaques and strives to ensure every client is satisfied. If you have any concerns or questions, you can always call us and speak to someone who knows and cares about your order and understands your needs. If you're ready for a beautiful commemorative plaque for your park bench or garden, contact us for pricing information or place an order.
Only logged in customers who have purchased this product may leave a review.
---