Companion Bronze Grave Markers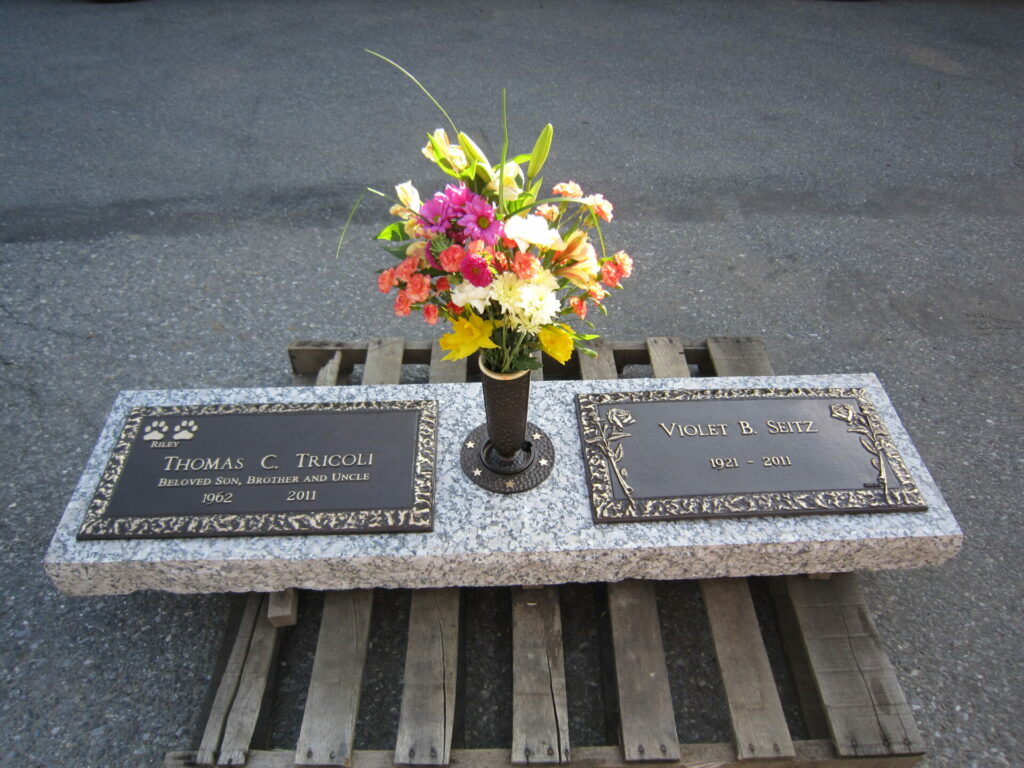 Memorialize your loved ones forever with companion bronze grave markers. These headstones are designed with space for two or more people on the same marker, demonstrating an eternal bond.
Benefits of Companion Bronze Headstones
There are several materials to choose from when designing a headstone, but bronze has many advantages:
Life: At Erie Landmark Company, we use the highest quality materials. A durable bronze cemetery marker can last 500 years or more.
Care: Bronze does not require routine maintenance. For even more resilience, we finish our companion headstones with a clear protective coat that comes with a five-year warranty for normal wear and tear.
Appearance: Bronze double headstones offer a timeless and classic aesthetic worthy of honoring the life of your loved ones.
Bronze Companion Marker Sizes & Options
We offer several opportunities for customization as part of our dedication to commemorating the lives of those important to you. Choose from a broad range of sizes and other custom options to create a unique memorial that will last for generations.
Sizes
Each of our bronze companion cemetery markers is designed to accommodate two or more people, so they are available in six standard sizes:
16 x 24 with or without a vase
20 x 10 with or without a vase
32 x 10 without an integrated vase
36 x 13 with or without a vase
44 x 13 without an integrated vase
44 x 14 without an integrated vase
Our team can also create companion bronze headstones in custom sizes. With the rising popularity of cremation, many people are choosing 24 x 12 if they do not want a vase and 24 x 14 if they do want a vase for their companion marker.
Options
Here are some of the custom options for companion grave markers:
Vases: Many of our companion markers can be customized with the addition of a vase. Your options vary depending on the dimensions you choose, and some sizes have a vase integrated directly into the design of the headstone.
Design: Choose from many different patterns for your bronze companion markers. Options include beveled edge, lily, ivy, rose, dogwood and more. We can also produce custom designs, such as a portrait of the deceased.
Background color: Capture the spirit of your loved ones by choosing a unique background color for the bronze memorial plaque. Our standard colors include hunter green, brown, royal blue, carnival red, black and natural. We can also create custom colors upon request.
Granite: Add a granite base to your companion bronze grave markers.
Emblems: Our team can personalize cemetery markers with your choice from a wide selection of emblems.
Custom Text: Include a custom message to your lost loved one by adding a poem, bible verse or family saying.
Emblems
Browse some of our popular emblems or request a custom design. Here are a few of the images we can add to your companion bronze headstones:
Religious symbols
Military emblems
Emergency responder emblems
Choose from these emblems and many more to add a personal touch.
Order a Companion Bronze Headstone From Erie Landmark
Erie Landmark Company, a division of Paul W. Zimmerman Foundries, has over 80 years of experience creating custom bronze plaques and grave markers. Our passion for detail and expert craftsmanship are unmatched.
We're owned and operated by family, so we understand the importance of a personal touch when memorializing a loved one. Contact us to learn more or order a bronze companion cemetery marker today.