Metal House Number Sign Plaque 5×11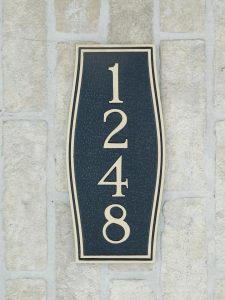 Metal House Sign
If your current address number display just isn't cutting it, the solution may be a metal house numbers sign that clearly points out the number of your home. Where can you find such a sign? You're in luck because we at Erie Landmark specialize in these kinds of metal street address signs.
Choose Your Perfect Metal House Numbers Sign With Erie Landmark
At Erie Landmark, we craft metal numbers and metal letters for house signs all the time. What type of metal, you ask? It's up to you! You can choose a beautiful cast aluminum sign or an elegant bronze sign. Either way, you'll get the highest quality metals we can provide, Oshalloy bronze or 319 aluminum.
This is not just an off-the-shelf plaque, either. We can customize it so your letters and numbers appear in the type and style you want, and we can add other words or symbols as well. This sign will not just present your address clearly. It will define your home. You'll love the lustrous finish of your new sign, which can be refinished again over the years to keep it fresh.
Why Erie Landmark for Your Metal House Sign?
First, we have the experience, with roots in Central PA going back more than 80 years. Second, we care. We are a small, family-owned business that takes a personal interest in each family that needs a sign from us. Furthermore, we offer a five-year warranty on normal wear and tear for your peace of mind.
To learn more or to get started on your custom metal house sign, contact us today.
Only logged in customers who have purchased this product may leave a review.
---