National Register Standard Plaque
National Register of Historic Places Bronze and Aluminum Plaques
Keeping history alive is one of the great privileges of living in an older community or home. The National Historic Preservation Act of 1966 was established for communities and residents across the country to provide a framework to identify, evaluate, register and protect significant historic and archaeological properties. Central to this framework is the National Register of Historic Places which is the nation's official list of cultural resources worthy of preservation administered by the National Park Service (NPS), Department of the Interior. After
getting your property listed on the National Register
, you'll want to consider how to showcase your status to the community. Erie Landmark Company specializes in producing high-quality aluminum and bronze historic house plaques and historic property plaques that will elegantly display your home or property's national registry status. Our classic and beautiful bronze plaques are crafted with durable and attractive bronze, and we use a specialized no-bake sand casting method that gives the bronze an excellent finish. Once you've designed your historic plaque, we can have it crafted and delivered to your door in just four to six weeks.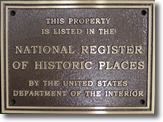 Why Choose an Aluminum or Bronze National Register Plaque?
Historic places listed in the register include districts, sites, buildings, homes, structures and objects that have American historical, architectural, archaeological, engineering and cultural significance. Plaques are not provided to homeowners or historic buildings by the National Park Service, so many sites and homeowners decide to commemorate this type of heritage with their own national register plaque to:
Show community pride
Become a center for historical tourism
Contribute an educational community tool
Bronze has typically been used to craft historic markers, signage, memorials and architecture because of its durability, attractiveness and corrosion- and weather-resistance. For your historic home, bronze is the perfect addition to give your home a traditional appearance and can easily complement your home's classic and unique architecture.
Historic Place Plaque Design Options
Our historic plaques are created by the skilled craftsman at Erie Landmark Company and can be customized with decorative borders, shapes, logos and color options to give your plaque a distinguished quality. To make ordering easier and keep your costs down, we also have a number of standard design options you can choose from which include:
Styles: Choose from five of our distinct styles including Arkansas, Colonial, Intertwined, Regular and Stylized.
Materials: Historic plaques are available in durable bronze or aluminum.
Finish: All of our plaques are crafted with a clear protective coating to protect the materials, so you'll never need to maintain or conserve your plaque.
Mounting Solutions: We have front-mounting styles with added rosettes to cover screws.
Wording: We provide two classic wording options, including, "Has Been Placed On The National Register" or "Is Listed In The National Register."
Based on the style and material you select, we have a number of standard templates which contain templated borders, background colors and sizes. Please review the example standard plaques below to choose the option that best fits your needs.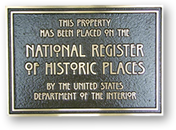 Call the Professionals at Erie Landmark Company Today
To become a community treasure and provide educational information to nearby residents, organizations and individuals have Erie Landmark Company — a division of Paul W. Zimmerman Foundries — craft a classic national register plaque for your home. We're a family-owned company and pride ourselves on providing high-quality aluminum and bronze plaques for our clients at competitive prices using the best materials and crafting techniques available. We even offer a five-year finish warranty for all of our products that undergo normal wear and tear.
Order your National Register of Historic Places Plaque today by filling out an order form below. If you have any questions, call us today at 800-874-7848 to design your historic house plaque or
complete our online contact form
.