Roadside Markers
Roadside markers are an excellent way to commemorate a historic site, building or event and share your history with locals and visitors. At Erie Landmark Company, a division of Paul W. Zimmerman Foundries, we produce bronze and aluminum roadside markers to commemorate historical events both big and small. We love our work and are proud to produce markers with high-quality craftsmanship and attention to detail.
Bronze and Aluminum Roadside Markers From Erie Landmark Company
Our talented graphic artists at Erie Landmark Company will design you an entirely customized bronze or aluminum roadside marker. We use only the highest-quality metals for premium durability, and each of our markers comes with a five-year finish warranty for everyday wear and tear. We have created roadside markers for museums, historical societies, business owners and even homeowners. Nothing in history is too big or small to be commemorated with a roadside marker that will keep its memory alive.
The Value of Historical Roadside Markers
Roadside markers are an ideal way to remind residents and tourists of local history. Historical markers offer the following value to a community:
Increases economic growth and tourism
Educates tourists and the local community alike
Preserves historical highlights for future generations
Creates a heightened sense of community and awareness of history
Erie Landmark Company designs and casts roadside markers for historical institutions and individuals alike. We help our customers commemorate unique and quirky landmarks such as pop culture events, movie filming locations and more.
Custom Roadside Markers From Erie Landmark Company
At Erie Landmark Company, each of our roadside markers is unique and customizable. We always value our clients' input and take care in integrating your requests into your roadside marker's design. We offer several customization options for your roadside markers:
Inscription: Tell the story of your landmark with a detailed inscription.
Font: Select from more than 10 different fonts or request a specific font of your own.
Material: Choose from high-quality aluminum or bronze
Background color: Pick a natural background or add a pop of color with hunter green, royal blue, carnival red, brown or black. Aluminum markers are also available in pewter.
Border: Make your roadside marker stand out with a single line, double line or customized border around your text, or add a gooseneck, circular or fancy top to make your design pop.
Photos: With etched bronze, metal photos and bas reliefs, you can preserve a moment in history and help your visitors connect the "face" and the name.
Celebrate History With Markers From Erie Landmark Company
The team at Erie Landmark Company has maintained a reputation for exceptional craftsmanship for more than 80 years. Our competitive prices and impressive range of customization options make us the right company to create a roadside marker for you. To ensure that your marker lasts for years to come, we apply a protective clear coat with a five-year warranty to cover normal wear and tear.
You can trust our family-owned and -operated business to design an unforgettable roadside marker with the highest standard of craftsmanship. Contact us today to learn more about our options or submit a quote request.
EXAMPLES
Below are examples of Roadside Markers.
24″ × 36″ Bronze Plaque
Roadside Marker, Brown Background, Single Line Border, Custom plaque with National Register wording and an Etched Bronze Photo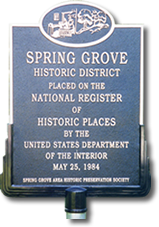 18″ x 24″ Bronze Plaque
Roadside Marker, Black Background, Single Line Border, Custom plaque with National Register wording and a Flat Relief
Only logged in customers who have purchased this product may leave a review.
---