Just as there are countless options for plaque design, there are also limitless choices for placement. From standalone signage staked into the grass to placement on fences, brick, stone, drywall, wood and other materials, mounting a custom plaque requires the right kind of hardware.
But deciding how to mount a plaque is more than just a matter of determining which options will physically work with the material — it's also important to consider how the environment will affect the mount and the plaque itself. Different placement scenarios will call for specific mount types.
At Erie Landmark, a division of Paul W. Zimmerman Foundries, we carry a variety of mounts and are happy to help you find the right one for your placement.
Our Plaque Mounting Options
Erie Landmark's plaque mounting options include the following.
1. Rear Mount
A rear mount is an excellent choice if you'll be displaying your plaque on brick, stone or stucco. You may need this kind of mount when working with gravestones or buildings. Since you won't have to worry about holes through your plaque, you'll be able to fit more text on the front of it. Rear mounts are also the best choice if you want to preserve historic stone and brickwork, as the stud mounting can be designed to hit the mortar joints.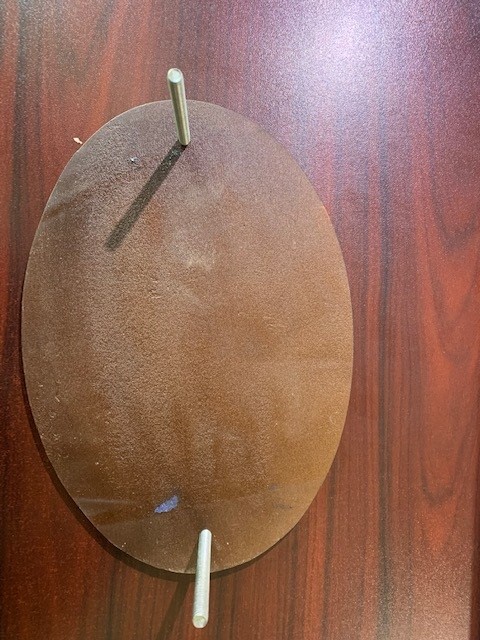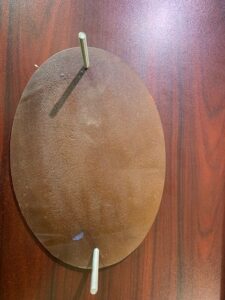 2. Front Mount
Front mounts should only be used on drywall and wood. This option frequently requires wood screws and sometimes anchors. Front mounts with anchors require a larger hole. To preserve the history of the materials where possible, these mounts should not be used on historic brick or stone.
3. Stand
If your plaque doesn't quite fit on a nearby surface, freestanding support comes in the form of our plaque stands. Each stand is made of 36- to 60-inch aluminum with a black powder coating and can be cemented into the ground.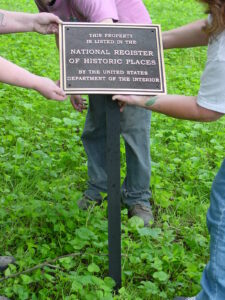 4. Pole
Roadside plaques can use some additional support and height for added visibility. We carry 7- and 10-foot galvanized steel poles that we can paint to match your roadside. If you want to attach your plaque to an existing pole, we can cast a clamp mount onto the back of the plaque customized to fit the diameter of your pole. Smaller diameter poles can also be used in a "lollipop" fashion to attach to any size plaque.
5. Stake
If you're looking for a permanent installation, we offer bronze stake welding for the back of your plaque at a 45-degree angle that will keep water from accumulating on your plaque. Our stakes also have a hole through the bottom where you can insert rebar and embed the stake directly in concrete. We recommend concrete no matter where you locate your plaque to minimize theft. Our stakes come in sizes of 15, 18, 24 and 36 inches.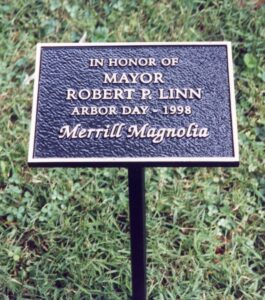 6. Sandwich Mount
Attaching your plaque to a fence? Not a problem. Our sandwich mounts can be configured to fit easily onto most fences.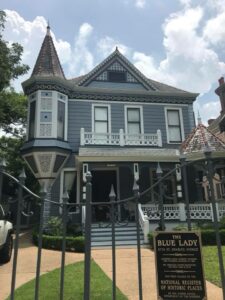 7. Specialty
Not seeing your placement option in one of these mounts? We offer several custom design options and can help you find a unique mounting solution.
Working With Erie Landmark
Here at Erie Landmark, customization and craftsmanship are our specialties. We'll strive to help you find the perfect solution, whether that's through the creation of the plaque itself or through finding the right mounting system for the unique environment in which the plaque is going. Our knowledgeable experts are well-versed in what kinds of mounts make a plaque look its best, and we're ready to help you decide which mounting option is ideal for your placement setting.
Quality is at the forefront of everything we make, and we offer a satisfaction guarantee. That's why cities, schools, historical societies, homeowners and everyday people turn to Erie Landmark to commemorate the occasions and locations that matter most. We can help you create a custom mounting solution, no matter how odd your placement is or how hard it may seem to work with. To learn more about our plaque mounts or talk to a representative about a plaque, please reach out to us today.