Custom Etched Metal Plaques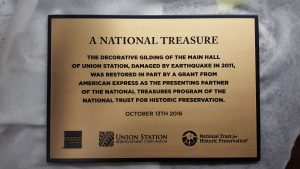 Placing a message or image on a plaque is a beautiful way to commemorate an event, an individual or a location. If you're looking for plaque services that result in reliable results every time, call on Erie Landmark. We offer custom etched plaques in a variety of high-quality materials.
Custom etching is elegant and attractive, and it adds aesthetic appeal to your location while memorializing an event that's important to you. You simply choose your message and we'll do the rest.
Why Choose Etched Plaques?
Metal etched plaques stand out among other types of plaques thanks to their precision and customizability. We have a variety of materials and finishes we can use to make your plaque unique. With bronze, copper, stainless steel or brass etched plaques, you can create a beautiful personalized image that stands the test of time.
Whatever artistic vision you have in mind, we can bring it to life. Our etched plaques also come with a five-year warranty for peace of mind.
Who Chooses Etched Plaques?
A custom etched plaque can be an excellent memorial or decor focal point for any business, organization or individual. We're used to working with customers who have all types of needs, ranging from the professional to the whimsical.
Some of the customers who choose our metal etched plaques include:
Historical organizations. Cities and towns can commemorate famous individuals and events with our custom etched plaques. Our plaques can be placed at memorials, inside historical buildings and more.
Churches. You can create signs and memorials for your church with the help of our plaque services. We'll create a custom product that matches the elegance and aesthetic appeal you need.
Schools. Schools and universities often set up memorials and commemorations for students, faculty members and events. An etched plaque can serve as a beautiful addition to a hallway or classroom.
Individuals. Erie Landmark also designs and builds plaques that people can use as gifts or pet memorials. What better way to show your love for someone else than to send them a personalized plaque they can cherish for years to come?
Whomever the customer, we'll provide a durable product that's both unique and appealing. Etching and indented photos are excellent choices for any person or business seeking a high-quality plaque.
Order an Etched Plaque Today
Etched plaques offer long-lasting value and beauty thanks to our in-depth process. You can choose any image or message you want for your plaque, and we'll ensure it lives up to your expectations.
If you're interested in ordering a bronze, stainless steel, copper or brass etched plaque, simply fill out our online form to request a quote.