Erie Landmark specializes in creating the highest quality bronze plaques for memorials, remembrance and more.
Our bronze memorial plaques are ideal for: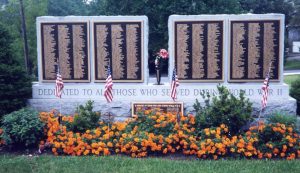 Memorializing a loved one or important figure
Commemorating a first responder
Remembering a significant place or event
At Erie Landmark Company, we provide a seamless process for customizing and ordering beautiful and timeless bronze memorial plaques.
Benefits of Bronze Remembrance Plaques
A bronze remembrance plaque will last a lifetime. Some of the benefits of these plaques include:
Affordable: A bronze memorial plaque is affordable without compromising on elegance and style.
Timeless style: Bronze plaques have a classic, timeless aesthetic. At Erie Landmark, we use a unique no-bake method of sand casting to give your bronze plaque a flawless, professional finish.
Durability: We create our commemorative plaques with high-quality bronze that is durable and resistant to corrosion and weather damage. A bronze plaque can last for up to 500 years. We also offer a clear protective coat for your plaque that comes with a five-year warranty for normal wear and tear.
Custom design: At Erie Landmark, you can customize your bronze plaque for any memorial or commemoration you have in mind.
Personalize Your Bronze Memorial Plaque
A bronze plaque can be personalized in many ways by the skilled team at Erie Landmark. We will work to create a beautiful plaque that matches your exact specifications. Here are a few of the options we offer for customization: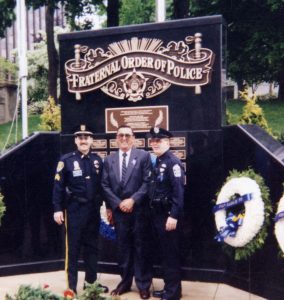 Backgrounds: Erie Landmark offers a variety of background colors to add a personal touch to your bronze memorial plaque. Choose from brown, black, dark hunter green, light hunter green, royal blue, carnival red, burgundy, brown patina, blue/green patina, natural without clear coat or natural with clear coat to create your background. Our team can also create custom colors upon request.
Border: Choose from a variety of borders for your bronze plaque. Options include beveled edge, double line, single line, intertwined, inset borders, band bevel and straight edge. Custom borders can be created for an additional fee. Custom border options are endless and include floral, Gothic, Art Deco, Victorian and many more styles. We can even take most fancy wood trim that you would find on walls and cabinets and turn it into an incredible border.
Photos: For the ultimate personal touch, our team can add photos to your bronze memorial plaque. Commemorate a beloved family member, fallen comrade, historic figure pet or an event with a lasting portrait. We can incorporate your image using a ceramic photo, metal photo, etched metal photo or a bas-relief sculpture.
Custom text: Complete your custom signage by adding text to tell your story. Choose from our selection of fonts or request a specific font for your inscription.
If there are any other details you would like to incorporate into your bronze plaque, let our team know, and we will do our best to accommodate you.
Order Your Bronze Commemorative Plaque Today
For expert craftsmanship and a personalized experience, look no further than Erie Landmark Company, a division of Paul W. Zimmerman Foundries, for your bronze commemorative plaque. We are a family-owned and operated business with over 80 years of experience and a reputation for creating memories that last for generations.
Whatever you want to commemorate, you can trust our team to create a plaque that will match your vision and meet our high standards for quality. Contact us today to learn more and get a pricing estimate for your customized bronze plaque.
Only logged in customers who have purchased this product may leave a review.
---