Custom University Plaques
University seals allow you to commemorate either a past or present individual who has made a significant contribution to your school.
At Erie Landmark, no matter what type or style custom seal or plaque you need, we can help you create one that will exceed your expectations.
Bronze and Aluminum University Seal Plaques
Our university seal plaques come in your choice of either bronze or aluminum.
Bronze College Seals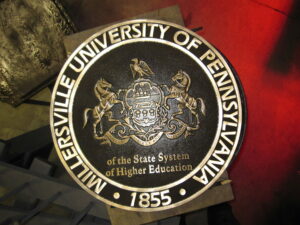 Choosing a bronze college seal means you'll be able to take advantage of this metal's timeless beauty. In fact, when you invest in a bronze seal, you can expect it to withstand the test of time and last for multiple generations — with legible inscriptions and images.
This eye-catching metal is durable, offering natural resistance to corrosion and wear. Because of the material's longevity, bronze college seals can be displayed in a variety of indoor and even outdoor locations.
Aluminum College Seals
Similarly, aluminum college seals allow you to add a beautiful, high-quality addition to a school or home. This metal is highly adaptable and works well for memorializing individuals or events with our state-of-the-art casting process.
Even though aluminum is lightweight, it is extremely sturdy, providing you with a long-lasting plaque that you'll be able to display and enjoy for many years. Just like with bronze, aluminum seals can be displayed in both indoor and outdoor locations.
What Are the Uses of University Seals and Plaques?
Bronze and aluminum university seals are often used to highlight:
Student achievements: Whether a student has achieved significant heights in academics or athletics, a plaque can help pay tribute to their hard work and dedication.
Notable professors: Professors who have contributed significant time, research or publications to the university can be awarded an appreciative seal.
Recognition day: Plaques are often cast with the school's logo and student's name and then handed out on recognition day.
The university's pride and authority: Present your university's official logo by displaying seals on lecterns, in rooms used for official business or outside important buildings.
University plaques can also be used for signage around campus. If you'd like to display your school or university's logo or want to show where a specific room or office is located, we can help you create a university plaque that meets your needs.
Why Choose Erie Landmark Company for University Seals?
When you choose Erie Landmark, you'll be partnering with a team that has over eighty years of experience in the plaque industry. In fact, we are one of the few continually operating family-owned and -operated foundries in Pennsylvania.
Our brilliant in-house artists and will listen to your needs and then design a custom university plaque based on your style and specifications. We use only the highest-quality, lustrous bronze and aluminum and then cover our creations with a protective clear coat. The finished result is a handcrafted plaque that is both beautiful and long-lasting.
Contact Erie Landmark Today
To start designing a custom university plaque today, give us a call at 800-874-7848 or fill out our online contact form and one of our experts will be in touch with you soon.