Pet Memorial & Remembrance Plaques
Our cast Pet Memorials come in many varieties. You can also start from scratch and design your own. Each Pet Memorial can be cast in bronze or aluminum and customized with your wording and accompanying stock emblem. If you want to place a picture of your pet on the memorial, we offer etched bronze, aluminum metal photo, ceramic photos, and bas relief. Place your order below or give us a call at 1-800-874-7848 and we can guide you through the creative design process. Your Best Friend deserves that special touch only you can provide. As with all of our plaques, our Pet Markers come with a 5 years warranty. Please contact us if you have any questions.
To PURCHASE your pet memorial, please select ALL options below and then click add to cart button.
Pet Memorial & Remembrance Plaques Order Form
STYLE & PET OPTIONS
Below are the 10 styles of our pet memorial plaques.
To view pet design options, click here.
To view font styles, click here.
If you'd like to fully customize your plaque, call us at 1-800-874-7848 or submit our contact us form.
Style #1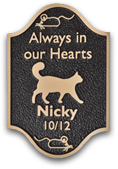 Style #2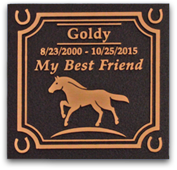 Style #3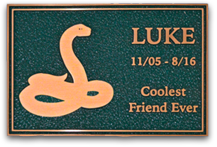 Style #4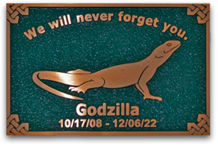 Style #5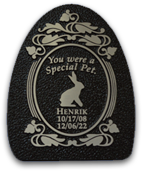 Style #6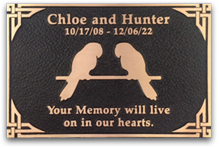 Style #7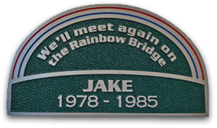 Style #8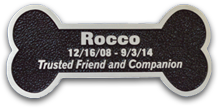 Style #9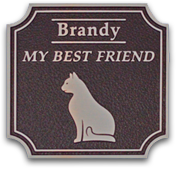 Style #10