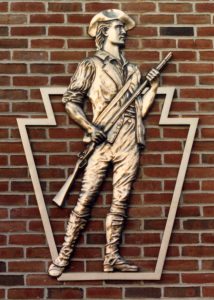 Bas Relief Bronze Plaques
Investing in a plaque to mark a memorable occasion, place, person or event is a big decision. Everyone has their reasons for purchasing a commemorative plaque — so why settle for a cookie-cutter design when you could have something extraordinary?
At Erie Landmark Company, a division of Paul W. Zimmerman Foundries, we create custom, bas relief bronze and aluminum plaques professionally sculpted to capture an exact likeness, image or scene. Whether you're recognizing a significant achievement or memorializing a person or event, our bronze bas relief plaques are the ideal way to create something you and everyone else can appreciate forever.
Bas Relief Bronze Portrait Plaques
If you want to add a picture to your commemorative plaque, consider a plaque made in bas relief. Bas relief is a sculpting style used to create three-dimensional figures raised above a flat background. These images are hand-sculpted by artisans using a photo you submit for reference. They create a finished product that's often more vibrant and powerful than text or a two-dimensional image.
When applied to a commemorative bronze plaque or aluminum plaque, bas relief presents a striking and unforgettable image that will last. The process requires incredible skill and patience, and the result is a true work of art — something generation after generation will be able to appreciate.
Our bas relief plaques are perfect as:
One-of-a-kind gifts
Artistic logo representation
Prominent business signage
Seals for government offices
Memorials for special people
Commemorative event plaques
Remembrances for treasured pets
Markers for historic homes and places
Signs for academic clubs and institutions
Permanent recognition for anything special to you
How Bas Reliefs Work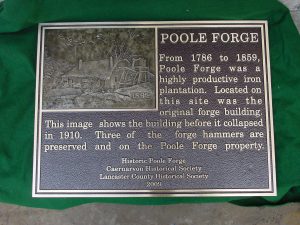 Our design process for bas relief plaques starts with a photo. First, we create a clay mold. Working from your photo, we will capture the nuances of the image and translate them into three-dimensional form.
You'll have the opportunity to approve the design before we proceed to the next step, which involves creating a plastic negative from the clay mold. We then create a plastic positive that we can use in the sand mold process (clay would get squished, plaster would expand due to the chemicals in the sand, so plastic is the best option).
Once the pattern is finished, we create a sand mold and pour molten bronze into the mold to create the sculpture. Once the bronze has hardened, we clean and buff it by hand, bringing to life the fine details that would otherwise be missed, and attach the relief to the rest of the plaque.
Bas Relief Plaques Made From Bronze or Aluminum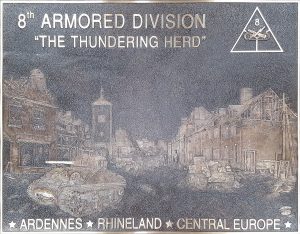 Bronze is a timeless material that is perfect for producing bas relief plaques. Nothing in the world looks quite like bronze, and for centuries, it has been the metal of choice for commerce as well as art. We also offer bas relief plaques made from aluminum. Aluminum portrait plaques have a silver, metallic finish and provide natural resistance to rust and corrosion.
Whether made from bronze or aluminum, our bas relief plaques are immediately recognizable. These markers are produced with skill, expertise, quality materials and professional processes to capture an image with accuracy and authenticity. The final product is truly unique and something that will deliver lifetimes of enjoyment.
Bas Relief Pricing
| | |
| --- | --- |
| Bas Relief 12″ or larger | $2,313.00 |
| Bas Relief smaller than 12″ | $1,929.00 |
| Bas Relief 2 Changes included – each additional change | $133.00 |
Request a Quote for Bas Relief Bronze Plaques
At Erie Landmark Company, we offer several options to place images on commemorative plaques. In addition to quality-crafted bas relief plaques, we offer etched, ceramic and metal photos for your custom marker. To learn more about our products, the process for sculpting bas relief bronze plaques or to request a personalized quote, contact us today.