Ship Plaques
When you commemorate a treasured ship with a navy plaque, you want that plaque to be cast by a company that has the proper reverence for what those plaques represent and that candemonstrate the proper level of quality in crafting them. That's why you'll want to come to Erie Landmark Company for your bronze naval plaques.
We have been casting bronze naval ship plaques at our foundry for over six decades. You can see from our past work how much pride we take in creating these beautiful three-dimensional representations of your ship's insignia.
Once we create your plaque, we coat it with a bronze patina and cover it in a protective clearcoat to fully guard it against the elements. We then carefully mount the plaque on a wooden board with a beautiful walnut finish so you can be proud to present it anywhere you think it's appropriate. The result is a beautiful, high-quality plaque that is sure to stand the test of time.
Reasons to Choose Erie Landmark Company for Your Ship Plaques
High-quality craftsmanship
Competitive pricing
Wide range of insignia options
Great warranty
You are sure to find the right ship insignia plaque for your needs, as we offer 150 standard options for decommissioned and current navy ships. If you cannot find the insignia you need, contact us for a fully customized plaque.
Prices for Navy Ship Plaques
Our standard pattern pricing options are as follows:
One piece — $107 Each
Two to nine pieces — $105 Each
10-19 pieces — $96 Each
20+ pieces (best value) — $88 Each
Don't forget that along with a protective clearcoat, each plaque comes with a five-year warranty for normal wear and tear, so you can relax with the peace of mind of knowing these plaques are built to last.
Order Your Ship Plaques From Erie Landmark Company Today
At Erie Landmark Company, we care about our customers and are passionate about our craftsmanship, and it shows in every plaque we make. We are a family-owned company that loves what we do and work hard to get all the details right.
If you're not sure we have what you are looking for in a naval ship plaque, please email us at info@erielandmark.com with as much information as possible about what you are looking for. We will do everything we can to accommodate you.
Once we have your details, we can go through our pattern catalog to see if your needs fit one of our standard patterns. If not, we will quickly estimate the cost of creating a custom pattern that fits your requirements.
We look forward to providing you with a gorgeous plaque for your ship that you can be proud to display. To purchase your navy ship plaques today, please select your pattern from the drop-down menu provided, choose your preferred quantity and then click the add to cart button.
EXAMPLES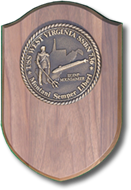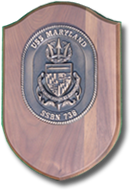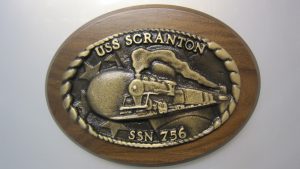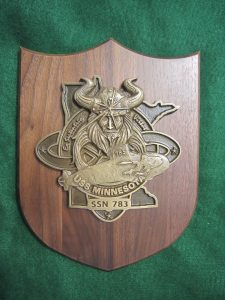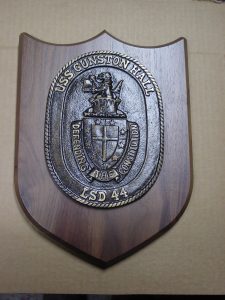 Only logged in customers who have purchased this product may leave a review.
---