The Erie Landmark Difference
Erie Landmark crafts custom plaques from your imagination to make them uniquely your own.
What makes Erie Landmark plaques different?
We are not a "cookie cutter" plaque maker– we go beyond standard designs- too many to capture in our capabilities! Our in house artist works with you to make a plaque unique to your organization. Our plaques are American made and hand crafted to your specifications.
The quality is unmatched– we personally touch each plaque throughout the process. Our hand sanding ensures accuracy to meet your expectations. You can't achieve this quality with a machine!
Surprising pricing– in our case cheaper is better! We compared our plaques with most competitors and the weight alone displays a higher quality. With us, you aren't paying for extensive overhead and you reap those benefits for your budget.
Our Experience– we have been creating custom plaques in our family owned foundry since 1937. The third generation is in leadership with the fourth generation learning the ropes.
Your Experience Matters– The Erie Landmark Personal Touch carefully guides you through the process. You will be delighted when you receive your custom product, hand crafted by American artisans.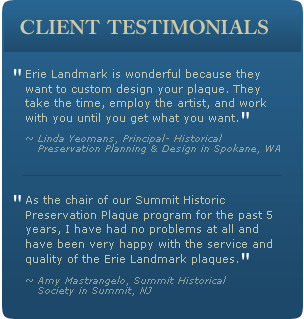 The Erie Landmark Personal Touch
The Erie Landmark Personal Touch is what you experience from your first contact with our friendly program service representative. Our representatives will personally and carefully guide you through every step of the process. Erie Landmark makes your historical plaque program an easy, stress-free, and satisfying experience for you.
Historical Plaque Programs
Historic plaques shouldn't come one size fits all. Erie Landmark excels at making your vision become a reality. Get as creative as you want – include your logo, a unique image or any particular shape – we have the expertise to finish the job.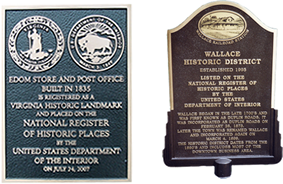 Historical plaques can be used in a variety of ways and are customized to meet your goals:
Historical plaques support and build a sense of community.
Neighborhoods can identify the significance of original buildings and locations.
Historic plaques don't require National Register approval.
Drive tourism dollars into the community.
Historical plaques may also create revenue for your organization