Bronze Grave Markers
Saying goodbye to a loved one, from a parent to a pet, is never easy. We memorialize their life, however, with a marker that captures their spirit. Whether you're a family searching for a custom bronze memorial plaque to commemorate your loved one, or a funeral home looking to provide your families with a quality-choice selection of bronze grave markers, our family at Erie Landmark Company — a division of Paul W. Zimmerman Foundries — can help.
Types of Bronze Cemetery Markers
At Erie Landmark Company, we provide a few types of bronze cemetery markers, including: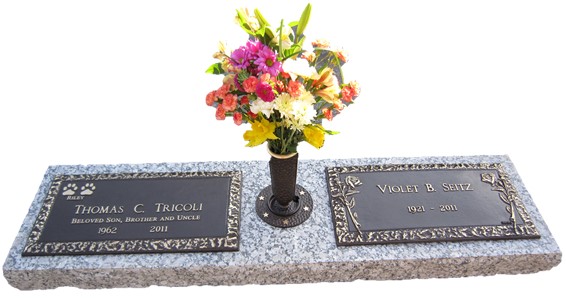 Single
Companion
Infant
Cremation
We can also cast matching veteran markers, scrolls and date tabs for your family or company.
Sizes for Bronze Memorial Plaques
Our bronze memorial plaques are available in twelve standard sizes, including:
If you require a smaller or larger marker, our team can create it with care and to your exact specifications.
Options for Bronze Grave Markers
As a part of our passion to help you commemorate a loved one's life, we offer several personalization options for our bronze grave markers, including: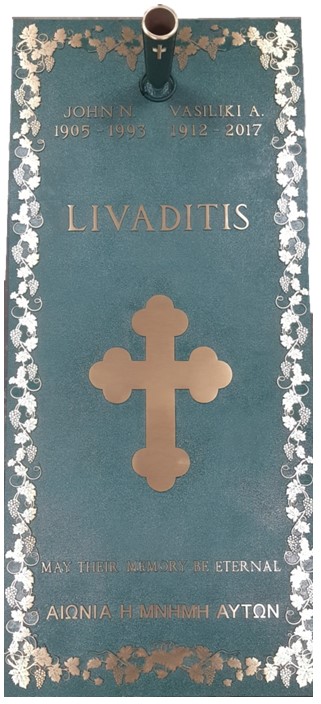 Vase: We offer six types of bronze grave markers with a vase — whether for single or companion markers. A 10-inch vase unit is available with or without a cross or praying hands. Vase units come with a six- or seven-inch vase ring and canister. Our seven-inch base unit comes in plain, stars and custom.
Design: We provide 60 different patterns for our bronze cemetery markers. Designs include ivy, lily, rose, dogwood, beveled edge, greek key, pine bow, rosary and veteran patterns. Our team can also produce designs and emblems outside of those listed, even adding a photo of your family or pet.
Background Color: We produce our bronze memorial plaques in six different colors. Choose from black, brown, hunter green, carnival red, royal blue or natural to capture your loved one's spirit or provide your funeral home or cemetery's families with attractive, thoughtful bronze grave marker options. If you'd prefer a custom color, we do offer them on request.
Emblem: We can personalize your bronze grave markers with emblems. Add a religious, military, emergency responder, animal, sport, vehicle or another of our many symbols to emphasize and immortalize the life and character of your family member.
We also offer several different typefaces as well as font sizes for your personalized inscription.
Benefits of Bronze Memorial Plaques
While many types of memorial plaques are available — including aluminum — bronze memorial plaques provide many advantages, including:
Life: Due to the durability of bronze, a bronze grave marker can last longer than 500 years.
Care: Bronze grave markers do not require routine maintenance. Their protective clear coating, in fact, comes with a five-year warranty for normal wear and tear.
Appearance: A bronze cemetery marker offers a timeless, classic appearance that coordinates with the longevity of the plaque and can be refinished multiple times to look as good as new.
Learn More About Bronze Memorial Plaques by Erie Landmark Company
At Erie Landmark Company, we believe in the quality of craftsmanship. That's why we feature a talented team that designs, produces and finishes every bronze memorial plaque we create — ensuring it meets your standards and specifications as well as your vision. Whether you're looking for a single bronze grave marker with a vase or several sets of bronze grave markers, we can provide you with personalized care as well as competitive pricing.
Contact us today to learn more about our markers or submit a pricing request below to start the order process.
EXAMPLES
Below are examples of our Bronze Cemetery Markers.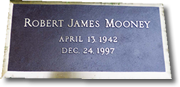 24" X 12" Bronze Marker
Bevel Edge, Brown Background, Full Dates
24" X 14" Bronze Marker
Plain Rock Edge Design w/Vase, Brown Background, Full Dates, Additional Emblems, Additional Special Order Text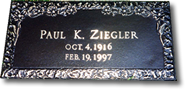 24" X 12" Bronze Marker
Dogwood Design, Brown Background, Full Dates

36" X 13" Bronze Marker
Dogwood with Vase Design, Brown Background, Stock Emblem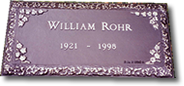 24" X 12" Bronze Marker
Ivy Design, Brown Background
44" X 13" Bronze Marker
Dogwood with Vase Design, Brown Background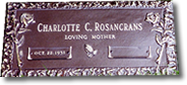 24" X 12" Bronze Marker
Rose Design, Brown Background, Full Dates in Scrolls

44" X 14" Bronze Marker
Lily with Vase Design, Brown Background, Full Dates, Additional Special Order Text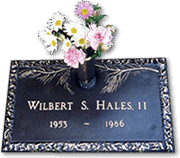 24" X 14" Bronze Marker
Pine Bow with Vase Design, Brown Background