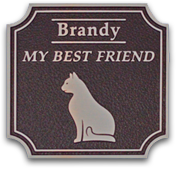 Our pets hold a special place in our hearts. When they inevitably leave us, it's a loss that can never be recovered. One way of honoring that bond is with a bronze cat memorial plaque.
While there are lots of mass-produced memorial stones out there, your cat deserves something as unique as the memories they left you. With a pet memorial plaque from Erie Landmark Company, you'll always have something to remember them.
Aluminum or Bronze Cat Memorial Plaques
Aluminum and bronze are both highly durable materials that will stand the test of time in any environment. Our memorial plaques for cats are hand-cast using a no-bake sand casting process, making each one an authentic artisanal product. They take time to make and they're more expensive than a cheaper alternative, but we think they're a better way to remember a pet you loved.
Aluminum is softer and lighter than bronze — as a result, our aluminum plaques are slightly less expensive, though they feature the same five-year warranty coverage for normal wear and tear. Bronze plaques are distinctive in that they will gradually develop a rich patina that many people prefer to the appearance of other metals.
Custom Plaque Designs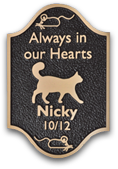 We offer both standard and custom cat memorial plaques. Custom plaques are unique creations — you'll have unlimited freedom in every aspect, from the size and shape of the plaque itself to the individual design elements. You'll also have the option of adding a photo or bas relief sculpture of your pet. We use several different techniques for this, including ceramic photo, metal photo and etched metal photo.
For a more classic option, consider a bas relief plaque — our artisans will take an image of your cat and translate it to a three-dimensional mold, creating a sculpture much like you would see on a coin.
Standard Design Elements
We also have a wide range of standard designs that are customizable in a variety of ways. Choose one of our distinct styles and sizes, then select the font, color, image and message. There are a ton of potential combinations — and plenty of opportunities to find a design that honors your pet's memory.
All our standard and custom plaques receive a clear coat finish that protects them from the elements, making them perfect for a special spot in the garden or other outdoor space.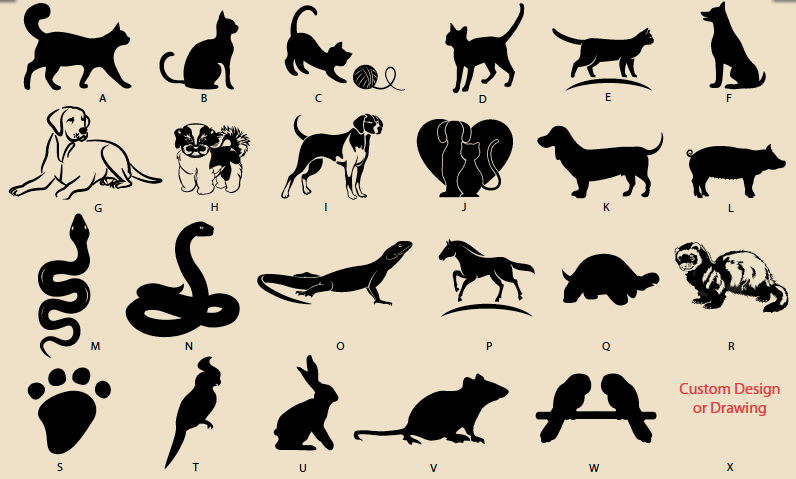 Order a Cat Memorial Plaque From Erie Landmark Company
The process for ordering a cat memorial plaque from Erie Landmark Company is straightforward. Use the form on this page or contact us directly to go over your requirements. For a custom plaque, we're happy to help you select the elements you want to include or provide other design services.
We'll then send you a proof and a detailed quote to approve. Once you've looked it over and given our team the go-ahead, we hand-cast each plaque to order in our foundry. Then, we hand finish and apply the clear coat to ensure it looks great and lasts for many years to come.
Shipping is available anywhere in the country. Lead times are typically between four and six weeks. For more information or to buy your cat memorial plaque and start the production process, reach out to one of our team members.
STYLE & PET OPTIONS
Below are the 10 styles of our pet memorial plaques.
To view pet design options, click here.
To view font styles, click here.
If you'd like to fully customize your plaque, call us at 1-800-874-7848 or submit our contact us form.
Style #1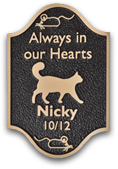 Style #2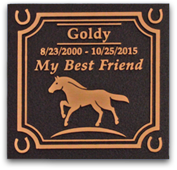 Style #3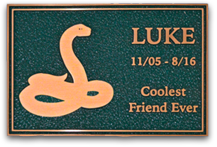 Style #4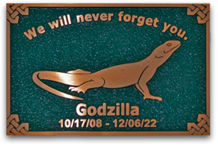 Style #5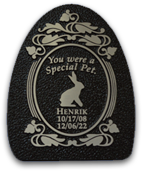 Style #6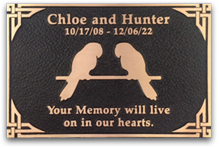 Style #7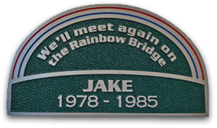 Style #8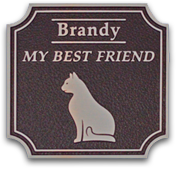 Style #10
Only logged in customers who have purchased this product may leave a review.
---