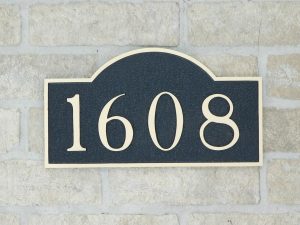 Custom House Plaques
If you're looking for the perfect finishing touch for the exterior of your home, have you considered a custom house plaque? Custom house signs can truly transform your home. They can enable you to proudly display your family name while clearly labeling your address for visitors, postal workers and neighbors. A custom house plaque is also a great way to show off a little bit of your style while enhancing your home's curb appeal.
Erie Landmark Has the Custom Bronze House Plaque or Custom Aluminum House Plaque for You
Of course, if you are going to add a custom house plaque to your home, you want it to be of the highest possible quality. That's where Erie Landmark comes in. We can customize the perfect high-quality house plaque for your home. You choose the material, Oshalloy bronze or 319 aluminum. You can also choose the style as well as the arrangement, words and symbols you want on your plaque. We will handle the rest.
We back up our work with a five-year warranty for normal wear and tear as well. These plaques look beautiful and can be refinished many times to make sure they keep their luster.
Why Erie Landmark Is the Right Choice for Custom House Plaques
We work with higher quality materials than standard plaque makers, and we will do everything we possibly can to make sure you get the plaque design you want. We have over 80 years of experience to draw on and have made countless homeowners happy with plaque designs that met or exceeded their expectations.
We'd like you to join the Erie Landmark family with a beautiful custom house plaque. To get started, just contact us today to talk to one of our knowledgeable and helpful Erie Landmark customer service reps.
Only logged in customers who have purchased this product may leave a review.
---