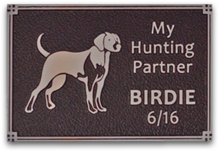 Nothing can make up for the loss of a pet — but an elegant dog memorial plaque can make it easier to keep their memory alive forever. At Erie Landmark Company, we believe pets are part of the family, and when they leave us, they deserve a tribute that captures their personality. Our customizable pet memorial plaques speak to the special bond we'll always share with the animals that have been a part of our lives.
Why Choose an Aluminum or Bronze Dog Memorial Plaque?
Your pet was one of a kind — while there are a lot of ready-made dog memorials out there, one of those may not feel like the personalized tribute it should be. If you want something made with a memory in mind, a timeless custom plaque from Erie Landmark Company is the best way to go.
We make our plaques by hand using bronze or aluminum. Both bronze and aluminum plaques are durable enough to last for hundreds of years with minimal maintenance. Over time, bronze plaques will develop a rich patina that many prefer. Aluminum, while slightly lighter and softer, is an excellent budget alternative.
Standard Design Options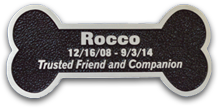 We offer both standard and custom dog memorial plaques. However, even our standard plaques have lots of potential for personalization. Choose from a variety of different styles available in bronze or aluminum, and a range of sizes. From there, select one of our available pet images, as well as the font, message and background color you prefer.
All our dog memorial plaques feature a clear coat finish for protection from the elements, which we stand behind with a five-year warranty for normal wear and tear.
Custom Dog Memorial Plaques
When a standard memorial plaque isn't enough, consider ordering a custom option. Our team is available to provide design services and will work with you to create something you'll cherish forever. We can even add an image of your dog to the plaque using several techniques:
Etching on a separate sheet of bronze, copper or stainless steel
Aluminum metal or ceramic photo printing
Bas relief sculpture
Etching and photo printing will provide a realistic effect, whereas bas relief will be more artistic and look similar to what you might find on a coin. Both are excellent choices, though bas relief, which is done entirely by hand, is more expensive.
To explore your options and obtain a quote, please contact Erie Landmark Company directly.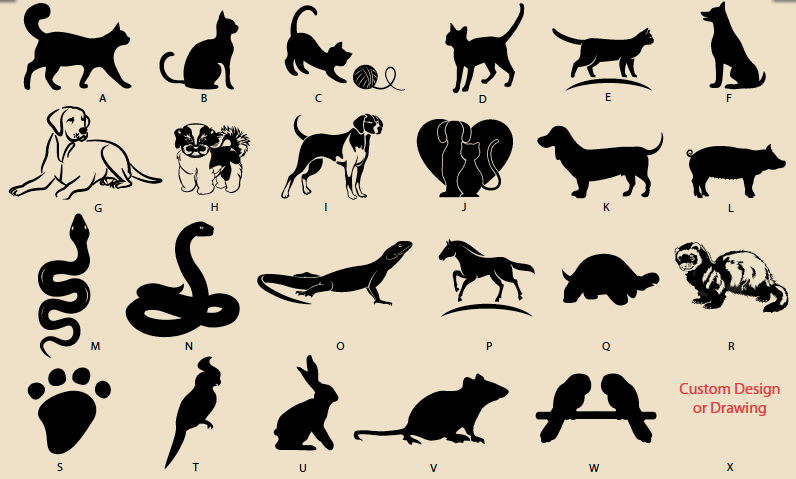 Order a Dog Memorial Plaque From Erie Landmark Company
The first step to buying a dog memorial plaque from Erie Landmark Company is to contact us and request a quote. We'll work with you to come up with a standard or custom design that reflects and honors the special bond you had with your pet. Once you've approved the quote, we hand-cast your plaque in our foundry and polish it to capture all the surface details.
Our process takes time, but it's worth it. We can typically have the finished plaque ready within 4-6 weeks.
Shipping is available anywhere in the country. Reach out to one of our representatives and start the process today.
STYLE & PET OPTIONS
Below are the 10 styles of our pet memorial plaques.
To view pet design options, click here.
To view font styles, click here.
If you'd like to fully customize your plaque, call us at 1-800-874-7848 or submit our contact us form.
Style #1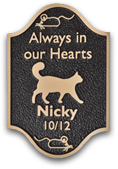 Style #2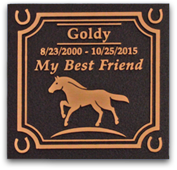 Style #3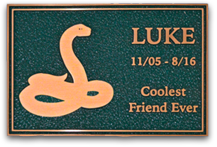 Style #4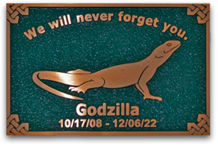 Style #5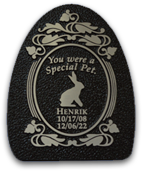 Style #6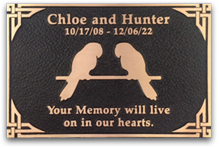 Style #7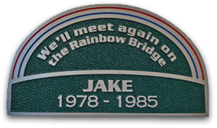 Style #8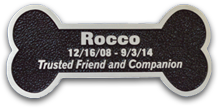 Style #9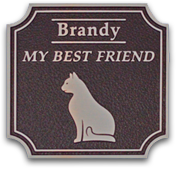 Style #10