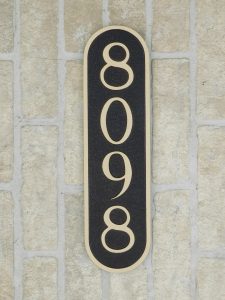 Door Plaques for Your Home
Front door plaques for the home are a perfect way to give your home a distinguishing touch that is truly your own. The right door plaque can bring a smile to every family member as they come home for the day, and it can be a distinguishing factor for your house, making it stand out from others in the neighborhood.
Erie Landmark Customizes Front Door Plaques for Your Home
If you're going to add a front door plaque to your home, do it the right way with Erie Landmark. We have created hundreds of door name plaques for the home, each customized to your needs. Choose an aluminum plaque in 319 aluminum or one of our bronze door plaques for your home in Oshalloy bronze. Either way, you are going to find yourself with a superior quality plaque that will stand out and last for years.
You can order your front door plaque form Erie Landmark with confidence thanks to our five-year warranty for normal wear and tear and our ability to refinish your plaque whenever you feel it needs to be renewed.
Choose Erie Landmark for Door Name Plaques for Your Home
We've had roots in this community for over 80 years and take tremendous pride in every plaque we see in our community in Central PA and beyond. Our friendly and knowledgeable customer service personnel can't wait to tell you about all your plaque design options and how we can best serve you.
If you're ready for a front door plaque for your home, we're ready to help. To get started, contact us at Erie Landmark now.
Only logged in customers who have purchased this product may leave a review.
---