House Number Plaques 4×13

Custom House Number Signs
If you're like many homeowners, the way your address number is currently displayed on your home is not getting it done. Perhaps the numbers are faded or are in some out-of-the-way place that it is hard to find. It may even be blocked by an obstruction. You can solve all these problems while beautifying your home with a house number plaque from Erie Landmark.
Erie Landmark Has the Custom House Number Plaque for You
Imagine a beautiful solid bronze house numbers sign displaying your address numbers for all passersby to see. Never again will there be any confusion as to whether people have found the right house when they can clearly see your bronze house number plaque in high-quality Oshalloy bronze and the distinct pattern and style you have chosen.
If you prefer, we can cast your house numbers sign in beautiful and durable 319 aluminum instead. Whichever you choose, your house number plaque will come with a five-year warranty for normal wear and tear. Your house number plaque will display its beautiful finish for years, and we can refinish it multiple times to make sure it stays that way.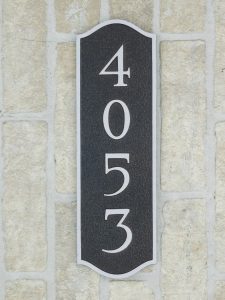 Our Commitment to Quality
If there's one thing we are known for at Erie Landmark, it's quality workmanship. If there's another, it's our commitment to serving our customers. As a family-owned business dating back to the 1930s, we take every plaque we make very seriously. As soon as you contact us to discuss your house number plaque, you'll sense the passion with which we approach our work.
Let us enhance your home's curb appeal and help your address stand out in the neighborhood. Contact Erie Landmark for a custom house number plaque now.
Only logged in customers who have purchased this product may leave a review.
---